BHITSHAH


The Town of Hazrat Shah Abdul Latif Bhittai!
Bhitshah is a small town in Taluka Hala District Matiari is located at the center of lower Indus valley (Sindh, Pakistan). It is a twin city with Hala at the distance of 202 km from Karachi (a city Jinnah International Airport) and 250 km Sukkur, the City of Lansdowne Bridge and Lloyd Barrage (International airport).

Bhitshah is a recognized cultural heritage sacred place where tourists and researchers often visit. It is a major source of connecting human souls together, across the world. The tomb of Hazrat Shah Abdul Latif Bhittai is situated at the mound of a sandy dune, familiarly known as "Bhit" where Shah himself had made the center of spiritual rites during the period of 1668-1752 A.D. People from different faiths and religions are engrossed round the year. Around 400-500 people/tourists visit for seeking spiritual satisfaction at the time of special occasion i.e. The Annual Urs where a number of devotees swell up-to three or four Lac (300,000 or 400,000 people gather). Adjacent, the shrine there are sacred places known as "Hujra and Wadi-Otaque" where tourists, visitors attend for spiritual connection. In "Hujra" poor and rich, non-literate, and literate, research scholars across the world, also people from every faith and religion do visit only for seeking the cause of humanity.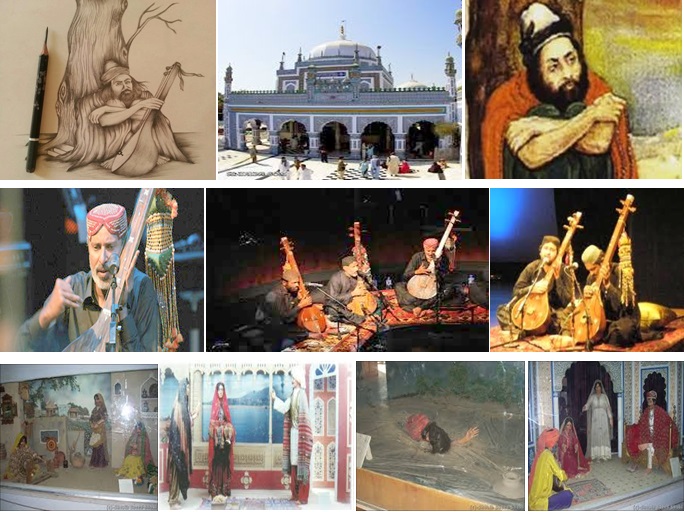 The shrine of Hazrat Shah Abdul Latif Bhittai, Bhitshah


A place of treasure of knowledge and wisdom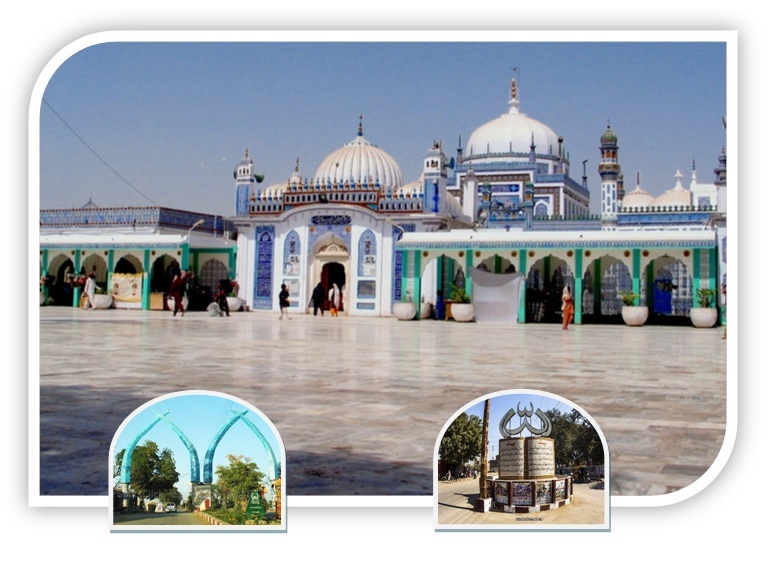 The shrine area is widely constructed with two main entrances at Southern and northern sides. It is a place where Sufi-music (Shah-Jo-Raag) is performed round the clock. It is a voice that connects the hearts of the people beyond the boundaries. If someone listen Shah-Jo-Raag, we would be citizen of peace-loving global village because Shah teaches us the art of lovable relations with mankind. The echo of a beautiful voice is a form of language that conveys the message of peace and tolerance. It has the natural ability to connect hearts of people and it works on bringing people together. The spiritual music (Shah-Jo-Raag) is a combination of beautiful voices that have true echo for listeners to connect hearts of people globally and become peaceful citizen of global village. It was the genuine endeavor of Shah Abdul Latif Bhittai who established an institution of Shah-Jo-Raag. He made a circle-shaped sitting arrangement with beautiful voice to convey the global community on connecting hearts of people together.
A Unique Sufi-music Instrument

Shah invented a unique musical instrument called "Tambooro". Amazingly, Tambooro is very exceptional and different from other (traditional) musical instruments in structure. There are five sequentially arranged musical-strings namely base (Ghor), twins (Jaryoon), Tongue (Zabaan), low and high pitch voice (Teep) which are specified stages of melodious tones. The invention of Tambooro was an initial step towards institutionalization of Shah-Jo-Raag to convey the people to promote human love and tolerance whatever the religions do have – human love and tolerance are such social practices which create a sense of cooperation among people. Shah Abdul Latif Bhittai asked his devotees (Fakeers) for the performance of Shah-Jo-Raag in his presence. In this way, this spiritual music was established with the flavor of different varieties while using the five strings. The basic social norm was essentially set-out that the singers (devotees) of Shah-Jo-Raag will promote open-mindedness and they will not disappoint anyone while performing Shah-Jo-Raag. Everyone was taught the lessons of good human being. They were asked to carry out this legacy towards the future generations.Since the inception, Shah-Jo-Raag has been a great interest of people globally. People from the different walk of life, from different religions and countries, were interested to listen to the music and feel its intensity on hearts towards connecting mind and hearts together. Its arrangement is fully institutionalized – in the way that they (singers) usually sit in a circle shape – the group leader at the center –he keeps his face towards the shrine. While performing Shah-Jo-Raag the group leader recites stanzas from different poetic chapters (Surs) in low pitch voice while his followers repeat the same stanzas in low and high pitch voices jointly with the connectivity of melodious strings. It goes from chapter to chapter in the same way but each chapter (Sur) comes to an end with the performance of the melody called "Waee".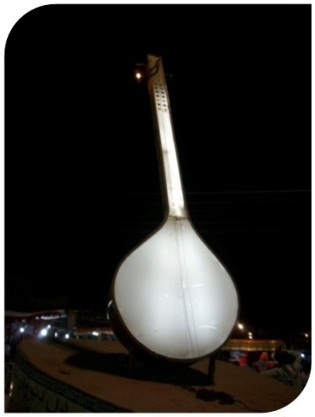 (Tambooro / Dambooro) of
Hazrat Shah Abdul Latif Bhitai
Performance of melody is the very fascinating segment for the listeners, even many people do not understand the meaning of original words but they acknowledge their devotion with natural style. Every one of us has same devotion towards listening to the melodies of Shah-Jo-Raag. It openly invites people to follow the integrations of their social, cultural and religious practices for peace and tolerance despite the different colors, castes, and creeds.
The Seven Heroines of Shah Abdul Latif Bhittai

Shah Abdul Latif Bhittai was a saint, spiritual scholar and a great poet of all times. He composed his poetry in the Sindhi language with the unique flavor of seven cultural folk-tales, namely Umer-Marvi, Noori-Jam Tamachi, Sasui-Punhoon, Moomal-Ranu, Leela-Chanesar, Suhni-Mehar, and Sorath-Raidyach. The taste of Shah's poetry is melodious in its original composition and it has the great lesson for people to love humanity and be tolerated and forbearing during all seasons. The sculptures of these seven heroines are displayed in a museum at Bhitshah.